Fare Suisse Tahiti
Bienvenue au Fare Suisse, situé au cœur de Papeete dans le quartier historique de Paofai. Grâce à notre navette gratuite vous rejoindrez notre établissement en moins de 15 minutes depuis l'aéroport ou le quai des ferries. Nos chambres climatisées à la décoration tropicale ainsi que nos spécialités maison du petit-déjeuner sauront vous séduire. Depuis la terrasse vous pourrez profiter d'une belle vue sur un jardin tropical tout en bénéficiant gratuitement du Wi-Fi. Le calme du lieu et la proximité des commerces et des sites touristiques de la ville rendront votre escale tahitienne des plus agréables.
Nous nous réjouissons déjà de vous accueillir prochainement au Fare Suisse,
Thérèse et Beni HUBER.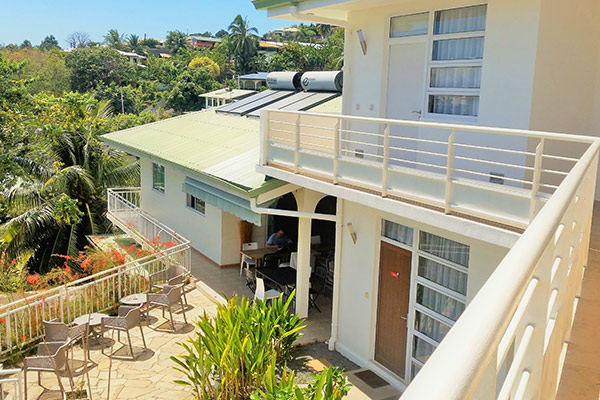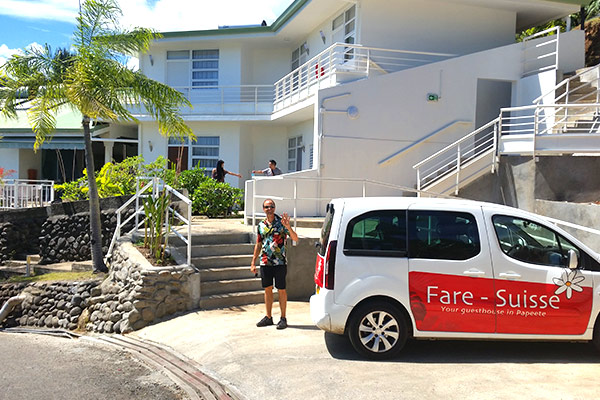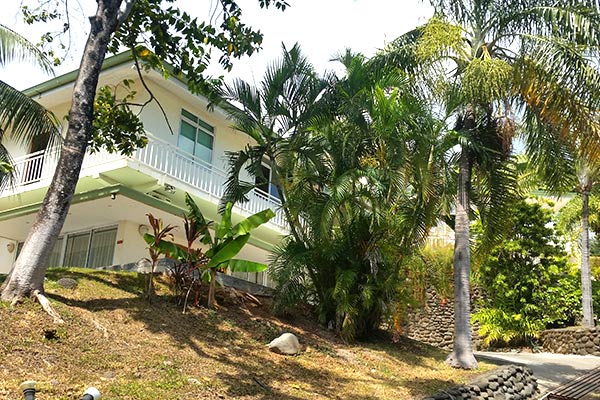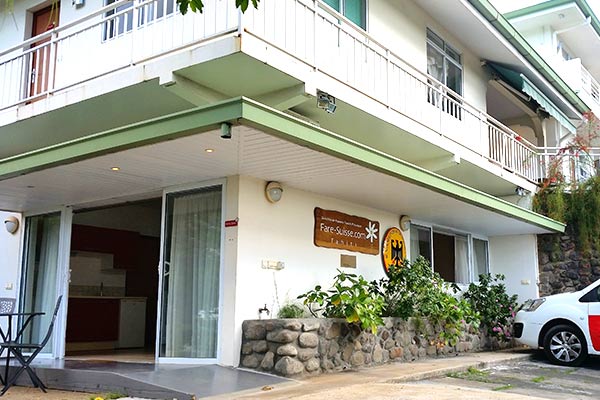 Commentaires de nos clients
Nice guesthouse in nice sourrounding just  a little bit up the hill of  Papete with a nice view aqnd nice Garden around. Walking distance to the harbour and downtown about 15 minutes. Offers appartements and shared rooms with a nice teracce and common room and kitchen. Beni is friendly picks you up at the airport, bring you there and informs you about all the possibilities to do in Tahiti. For a short Visit in Thaiti (just an hour boat ride from Moorea) or a stop before going on further to the islands or com back from there, an ideal place to stay.
I was looking as everybody for a well located, not expensive and nice place within Papeete. Such a place really exist at Fare Suisse ! Everything within Papeete is at walking distance from Fare suisse. Our room + kitchen was really big and very clean. We really enjoyed to stay there. And last point, the price, not expensive at all and including airport pickup ! Thus do not hesitate, go fare Suisse
We stayed at Fare-Suisse for 9 nights as part of a 7 month round the world trip and we had a brilliant time.  Beni was a fantastic host he collected us from the airport and nothing was too much trouble for him. Fare Suisse is very near to the local supermarket and the kitchen facilities are great to make your own food, and dining out on the veranda is very relaxing and quiet.  You can also walk into town if you fancy eating out. We explored the island and caught the ferry to Moorea which is beautiful and well worth a visit.  We also hired snorkels and masks from Beni which is a must. I would definitely recommend Fare-Suisse to anyone visiting Tahiti, it's a hidden treasure and great value for money.
Fare Suisse is a hidden gem amongst guest houses in Tahiti! It was very clean with great bathroom & kitchen facilities and free wifi and also very reasonably priced. It is very centrally located with only a 10 minute walk into the centre of Papeete. Beni is very helpful and made my stay very comfortable – I look forward to visiting Tahiti again & when I do I will certainly stay at Fare Suisse again.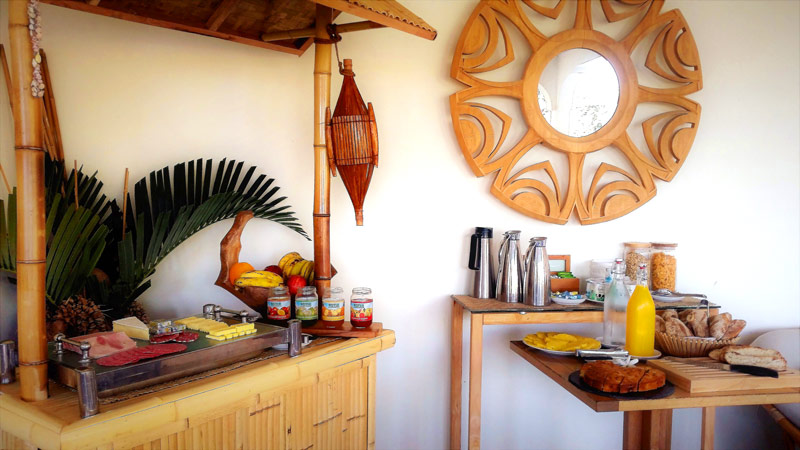 Petit-déjeuner
Pour le petit-déjeuner un buffet vous sera servi sur la terrasse entre 7h30 et 9h30 au prix de 10 euros par personne. Nous y proposons des produits faits maison comme le fameux pain et le délicieux gâteau de Beni, le propriétaire de la maison. Vous vous régalerez aussi de mets sucrés et salés, sains et gourmands, ainsi que de confitures tropicales et de fruits frais.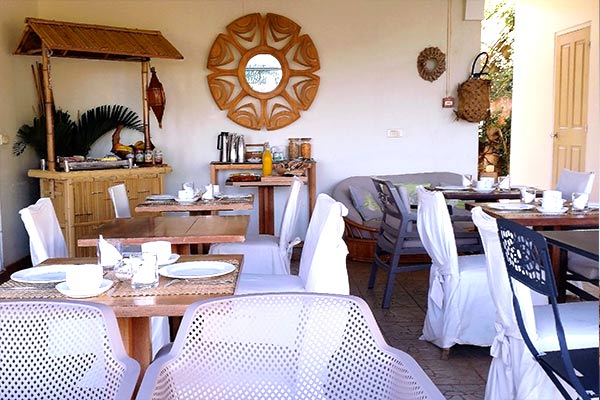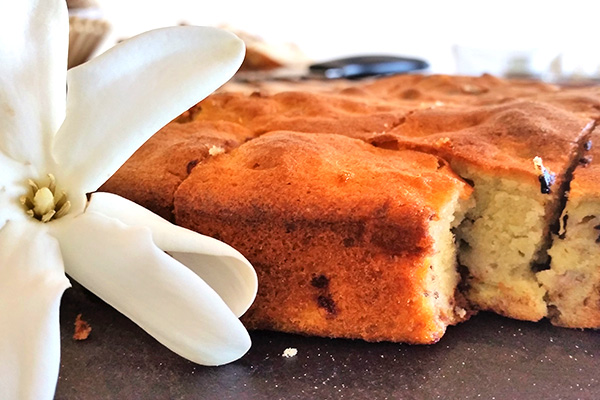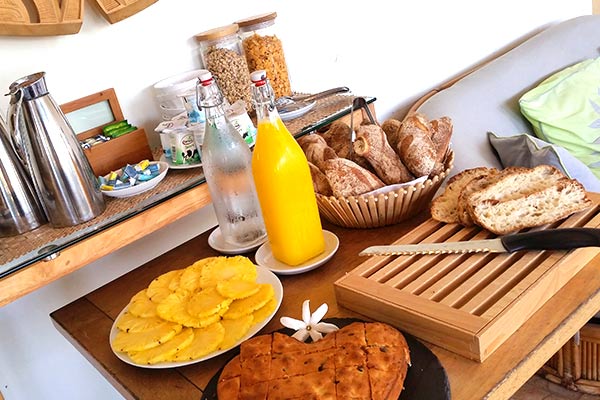 Service de navette
Nous proposons une navette gratuite commune de 6h30 à 23h45.
Pour bénéficier de ce service,  veuillez nous envoyer au moins 24h à l'avance, les informations suivantes : heure exacte d'arrivée ainsi que le numéro de vol ou le nom du ferry.